Neighborhood Partnerships
You will find life-changing opportunities to volunteer at PPC assisting WITH any of our local neighborhood PARTNERSHIPS.
Please contact us for more information about how you can volunteer and help
NEIGHBORHOOD PARTNERSHIPS


SOLIDARITY exists to equip Latino, immigrant families in under-resourced neighborhoods for community transformation. We partner with and support Solidarity in several ways to aid in this transformation.
We provide meals and support to Solidarity's Merge ministry for local teens.

We collaborate with teen leaders from Solidarity & PPC for our summer day camp program on the PPC campus and the summer enrichment program at the Solidarity neighborhood youth center.


PPC, in partnership with SOLIDARITY, conducts a Food Distribution in the local neighborhood to support families affected by job loss, inflation. CLICK HERE for more information on volunteering.


H.I.S. HOUSE is a homeless shelter for working families immediately next door to our church. Placentia Presbyterian Church purchased the house in 1989, establishing it as a homeless shelter and we continue to provide the home to HIS-OC for their main shelter in Placentia. We also provide office space for HIS-OC on the PPC Campus.

H.I.S. House assists people experiencing homelessness to regain self-sufficiency. Opportunities for volunteers can be found on the HIS-OC website.

KRAEMER MIDDLE SCHOOL is a partner of PPC. Each year PPC offers support to the school as requested by the staff.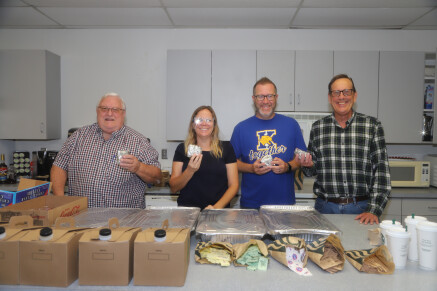 END OF YEAR KRAEMER STAFF BREAKFAST



PPC Partners with the RED CROSS by hosting Blood Drives throughout the year. Click here for our list of Blood Drive dates.



NUEVA VIDA GATHERING
meets on every first and third Wednesday morning at 8:30 am for discussion and Bible Study. This gathering partners with the local Latino community. For information please contact
Jazmin Perez
the Solidarity coordinator of the group.

THE PPC CLOTHES CLOTHES CLOSET is open the first and third Wednesdays of every month from 9:30 - 10:00 am. Clothes, household items and toys are provided at no charge to members of the local community.



PPC sends work parties to various Habitat for Humanity locations in Orange County to assist with local builds. There are also opportunities to travel internationally to assist. Groups from PPC have recently traveled to Vietnam, Africa, and Guatamala.

BEYOND OUR NEIGHBORHOOD

Vizcaino Ministry
The little church called "La Iglesia Puerta del Cielo" meaning gate of heaven (Gen 28:17), serves the very poor who work the commercial farms located in the desert area approximately 650 miles south of Placentia in the center of the Baja Peninsula, introducing them to the Gospel.
PPC Men's Ministry constructed this church building for the poor of the Vizcaino area, the largest in Baja Sur, Mexico, and it has served the members since the summer of 2012. God is using this building, along with additional satellite churches to bring the Good News to this barren desert area of Mexico. The Sanctuary Building is also used as a Rescue Center when the area is flooded from Pacific Ocean hurricanes that pass over the Baja peninsula.